Automatic pallet block cutting machine is used for cutting wood strips to wood block,the pallet block is used to make the wood pallet base, which is for the transportation or storage pallet. The final pallet block could get the E1 grade. The pallet block could be solid without hole in the center, and also could be hollow.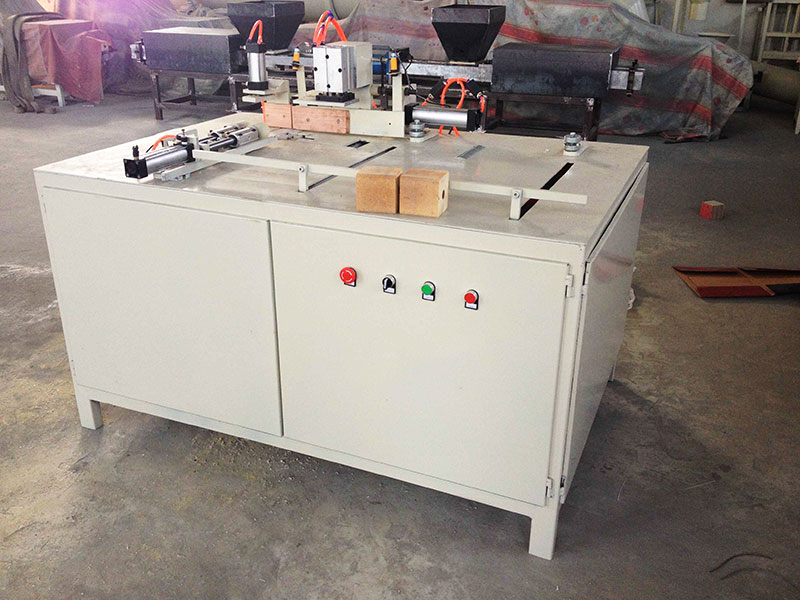 How to make pallet block?
1. Hydraulic cylinder provides high pressure and pushes the piston to extrude and mold the materials.
2. The heating of the heating plate at the high temperature promotes the solidification and molding of urea-formaldehyde glue.
3. Cutting according to certain length (usually around 1.2 m).
4. After cooling, cutting the long wood strips of half-finished products to the final size.
How does automatic pallet block cutting machine works?
automatic pallet block cutting machine advantages
1. High precision : totally vertical, smoothly for intersecting surface.
2. High efficiency: cut blocks in 1800pcs/h, can work in 24 hours.
3. Easy operation: 1 worker can handle.
4. Low cost: little waste in cutting lose.
5. Size adjustment: can cut into different size of block.
6. Safety:  worker no touch to saw in whole process.
7. Small occupied area: < 2m³
Pallet block features
1. Free fumigation. Because the pallet block is made by hot pressing, it is free fumigation.
2. Pallet block machine could recycle the wood waste efficiently.
3. Easy to operate. One person could handle 3 machines.
4. Density of final product could get to 550-1000 kg/m3.
automatic pallet block cutting machine parameter
Size
(mm)
Weight
(kg)
Power
(kW)
Dia of Saw
(mm)
Capacity

(pcs/h)

1600*1200*1300
200
5.5
400
1800
Pallet block size is 90*90 mm, 90*100 mm, 100*100 mm, 80*90 mm. If you have special requirements, we could customize, while it is at the range from 75 mm to 145 mm. Besides, one pallet block machine could make two different sizes block.