Drying machine introduction
Drying machine is designed with rotary type, and rotary drum drying machine can remove the moisture of wood materials perfectly. And it could dry the bigger materials such as wood chips, waste wood, wood shavings, sawdust and other kind of crushed straws.
The working temperature of Drying machine machine can reach up to 150℃-180℃ and the water content of wood shavings is below 10% after drying.
Simple design, self-insulation, and improving the heat efficiency to exceed 80%. Meantime, good drying performance, coal consumption < 8kg when drying 1 ton material.
Finished product moisture can be adjusted according to the different requirements. Meanwhile, finished product temperature lower than 60°C, and working continuously.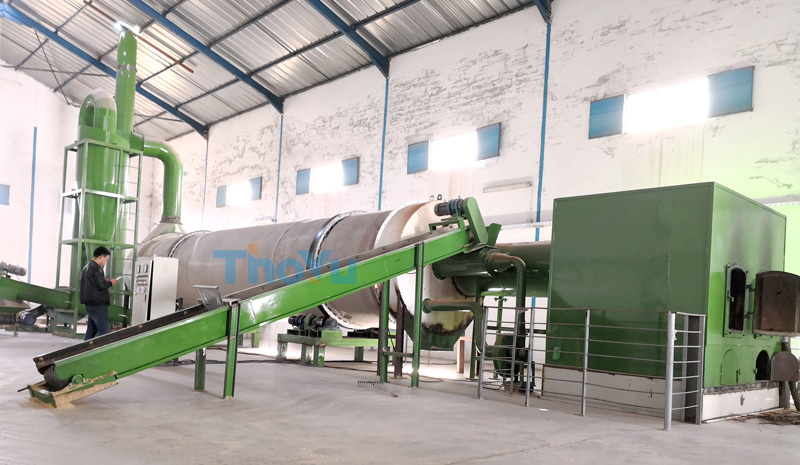 Application
Drying machine is suitable for a wide range of materials, such as wood chips, lees, alcohol residue, pomace, dregs, tea residue, bean dregs, sugar residue, potato residue, starch residue, straw, corn cob, leaves, coconut shell, etc. It has a good effect on energy resources, reducing environmental pollution.
Drying machine features
High performance price ratio
Automatic control, to ensure the drying of material water even and stable. Automatic stone removing and iron removal can ensure that the impurities of the material are not in the rear process. The required investment of equipment is 1/6 of imported products.
Energy conservation
Compared with the single cylinder drier, the utility model reduces the occupation cost by about 50%, reduces the civil investment by about 50%, A variety of material combinations distribution, effectively control the drying time.
Better quality
Cylinder self insulation, the thermal efficiency of more than 70%, With tail drive, the transmission is more stable and reliable; completely change the wheel rotation, often slip shadow, Sound production phenomenon.
Widely used
Frequency control is adapted to control material flow, and the final water can be easily controlled according to the needs of users Subindex. The air outlet temperature is low, and the dedusting equipment can be used for a long time.
Drying machine technical parameters
Drying machine
Model
PMSG1210
PMSG1409
PMSG1615
PMSG2010/3
PMSG2210/3
PMSG2510/3
PMSG2512/3
PMSG2912/3
Daily capacity(t/d)
44.0-19.5
46.5-20.5
88.0-39.0
144.5-63.5
154.0-67.5
193.0-83.5
227.0-100.0
268.0-120.0
Evaporation of water rate (t/h)
0.565
0.595
1.130
1.850
1.976
2.427
2.912
3.432
Raw materials humidity (%)
35-50%(The capacity is different according to different humidity)
Dry materials humidity (%)
12-15% (Adjustable)
Dry average temperature (℃)
235±30℃
Total weight (kg)
13500
15500
19500
25000
27000
35000
38000
43500
Area (m2)
5 m*15 m
5 m*15 m
6 m*22 m
8 m*18 m
8 m*18 m
10 m* 18 m
10 m* 20 m
10 m* 22 m
Above all, Thoyu also provides molded plastic pallet machine and wood pallet block machine for you. In addition, we can provide all series of auxiliary equipment, such as wood chipper, wood crusher, drying machine, glue mixing machine and so on.