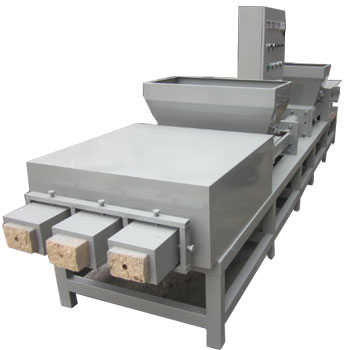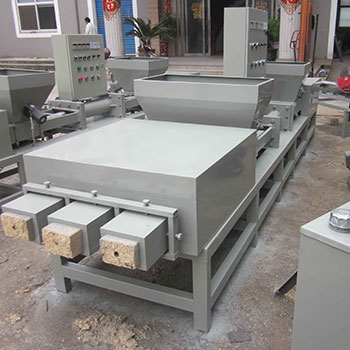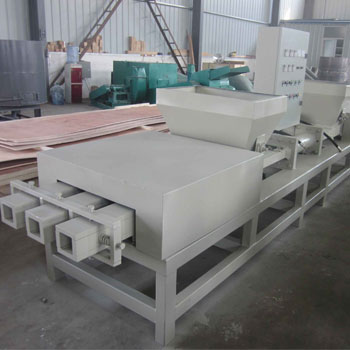 wood pallet block machine with three-head
Height: 75-145mm Width: 75-145mm
Power:12-19kw
Glue Consumption:70-90 kg/m³(calculated as 550kg/m³)
Density of final product:550-600kg/m³
Capacity:5-9m³/24h
Voltage:380V,3phase,50Hz(motor could be customised)
Weight:1500kg
Dimension:5500*600*1500mm without saw material
Introduction of three-head wood pallet block machine  
wood pallet block machine mainly use wood sawdust and shaving or other scrap woods and others agricultural waste like cotton seeds, shell husks as raw materials, Mixing with glue in an certain ratio, extruding wood block by hot press heating pressure.
The final wood block can be used as tray and foot pier replaced log, also can be used in export package, free fumigation, and free quarantine. 
Wood pallet block making machine is one of the key part of the production line, including the dryer, the gluing machine, grinder and conveyor, manual or automatic cutting machine or saw. Final block is insects prevention, and protection against termites and do not easy to burn;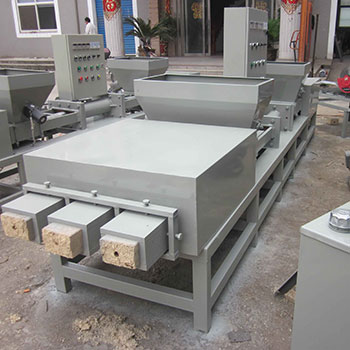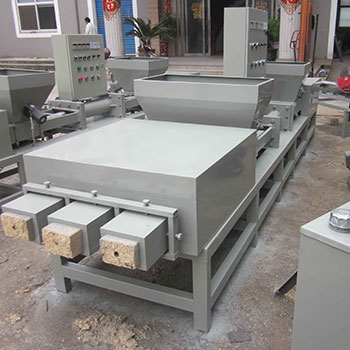 The advantages of final product from Wood Pallet Block Machine
A. free of fumigation. Because the block is made by hot pressing, it is free of fumigation.
B. it could recycle the wood waste efficiently.
C. easy to operate. one person could handle 3 machines.
D. Density of final product could get to 550-800kg/CBM. You could choose what you need.
Block Sizes of Wood Pallet Block Machine  
Normally 90*90mm, 90*100mm, 100*100mm,80*90mm. If you have special requirements, we could customize while it is at the range from 75mm to 145mm. Besides, one machine could make two different block sizes.
Parameters of Wood Pallet Block Machine
Model

Length and width of block

Power (kw)

Production efficiency(m³/24h)

Dimension with saw(m)

Weight (kg)

TYS

75-145mm

14.26

2-3

8*0.6*1.5

1000

TYD

22.26

4-6

8*0.7*1.5

1500
https://www.tumblr.com/blog/woodpalletmakingmachine
The History Of Wood Block Machine Wood Block Hot Press Machine Sawdust Block Forming Machine