Automatic wood pallet nailing machine introduction
An automatic wood pallet nailing machine is a manual nailing platform capable of allowing a single working to build an estimated production of 500 pallets per day depending upon the pallet design. The open deck design allows customers the capacity to manufacture a variety of Chemical Pallets (CP), UK, and European block pallet designs. so this single man pallet nailing machine is popular all over the world.The automatic pallet nailing machine can save you a lot of expenses and improve work efficiency. Our factory produce all kinds nailing machine for pallets,We can customize the wood pallet nailing machine according to the needs of customers.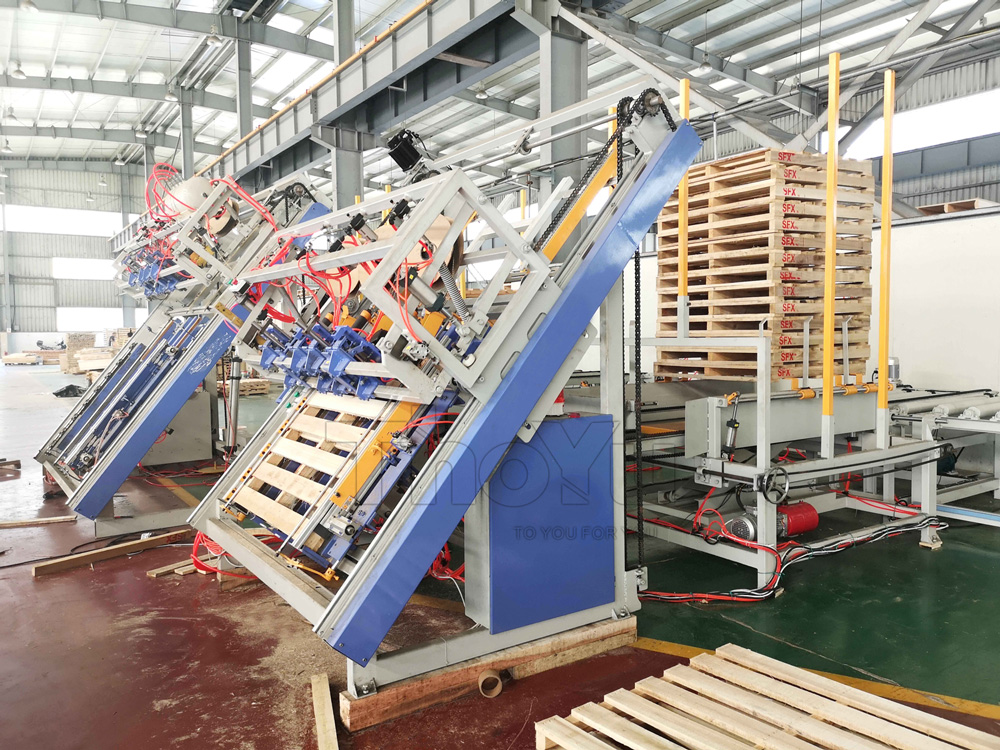 Types of nailing machines for wooden pallets
The most prominent international pallet styles are the open-ended legged pallet design and perimeter base pallet such as a 1200mm x 1000mm block pallet. Depending on the design, the customer might require flipping the pallet over and nailing the perimeter boards. Optional Nail Plates or clinch plates can be installed into the jig allowing any nail stubble to be clinched during the nailing process. To increase production customers should consider using the Automatic Pallet Stacking Machine.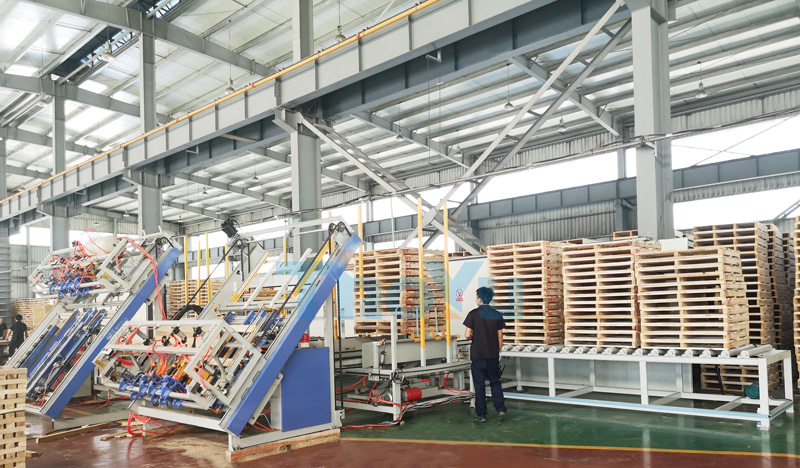 Depending on the model type the Automatic wood pallet nailer machine will accommodate pallet sizes ranging from 36″ x 36″ to 60″ x 60″. The simplistic open deck design allows for easy loading of raw materials.
Working principle of nailing machine
The flexibility of the pallet clamping system allows for easy change over accommodating pallet configurations from 3 to 4 stringer pallets design. The pallet clamping system squarely secures the boards and precisely positions them for the nailing process.
To eliminate builder fatigue ,The ThoYu Automatic wood pallet nailers operate with push-button controls allowing the pallet assembly to travel through the pneumatic nailing tools that fasten both the top & bottom deck boards' simultaneously eliminating the need to turn over the pallet.
The ThoYu Automatic wood pallet nailer machine as an option may come with and adjustable pallet stacker and optional gravity or powered outfeed conveyor allowing the pallet to be stacked to the required height making it the most valuable machine for any pallet production.
the production in our factory
The ThoYu Automatic wood pallet nailer machine is highly effective in doubling the production rate compared to manual pallet nailing. The ThoYu Automatic wood pallet nailing machines can hold 3000 nails per coil per nailing gun which means that approximately 150-200 pallets can be produced before any reloading is required.
The Automatic wood pallet nailing production line includes an Automatic wood pallet nailer machine, Automatic Pallet Stacking Machine, CNC wood saw, Pallet stringer slot making machine, Automatic pallet legs nailing machine, pallet block cutting machine, Pallet deck board chamfer making machine and so on.