Introduction of  Bandsaw Cutting Pallet Wood Block Cutter
Pallet block cutting machine/Bandsaw Cutting Pallet Wood Block Cutter is suitable for processing shavings pallet blocks, solid woods, multi-layer woods. Pallet block cutting machine is stable, efficient, safe, and simple, and so on. And it is also dominant in wood pallet processing equipment.
Technical Parameters of Pallet Block Cutting Machine / Bandsaw Cutting Pallet Wood Block Cutter
| | |
| --- | --- |
| Model | TY-1250DP |
| Capacity | 5 m3/hour |
| Overall dimension | 1960*1560*1360 mm |
| Main motor power | 22 kW |
| Feeding motor power | 1.1 kW |
| Max cut length | 1250 mm |
| Max cut width | 200 mm |
| Max cut thickness | 110 mm |
| Speed of mainshaft | 3000 r/min |
| Precision | 0.5 mm |
| Feeding speed | 7 s/cut |
| Voltage | 380 V, 50 Hz, 3P |
| Blade size/quantity | 355*3.2*60T*30/14 pcs |
| Net weight | 1100 kg |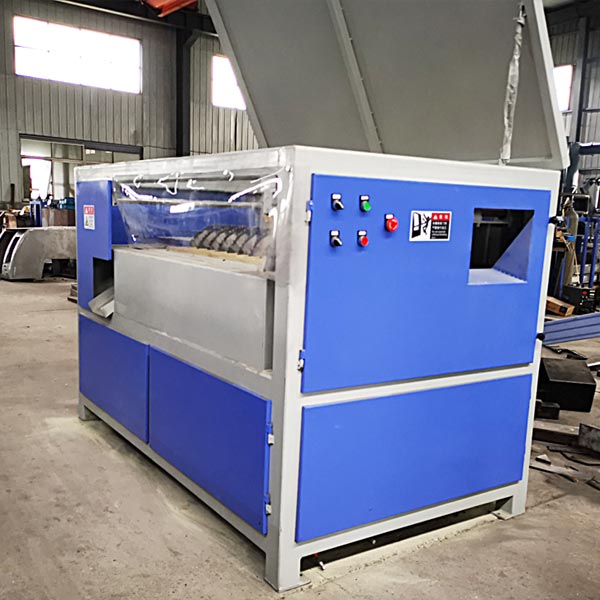 Features of Pallet Block Cutting Machine / Bandsaw Cutting Pallet Wood Block Cutter
High production efficiency, with cutting 5 m3 in one hour.
The bullet-proof chain is installed at the inlet to prevent the wood chips from rebounding. And the slope is installed at the discharge port, and the discharge is smooth, preventing the wood from flying out.
There is a safety shield on the top of pallet block cutting machine, so it is safer to place the wood.
The whole process is automatic feeding, the upper and lower shaft structure, multi-piece sawing, continuous discharging, so the efficiency is increased by 5-6 times, and the sawing road is thinner than other machines.
The power-enhanced feeding conveyor is strong and powerful, reducing the labor intensity of workers and making the sawing logs more stable.
Chain plate/chain feeding, and navigation sheet discharge, is suitable for processing shorter wood. The feeding chain penetrates the machine frame, and the whole chain feeding can cut the shorter wooden side and the sawing is smoother. Pallet block cutting saw can make it more economical than other types of multi-blade saws.
The operation greatly saves labor and improves the utilization rate of the wood. When feeding, the wood is pressed up and down, and the cutting is stable.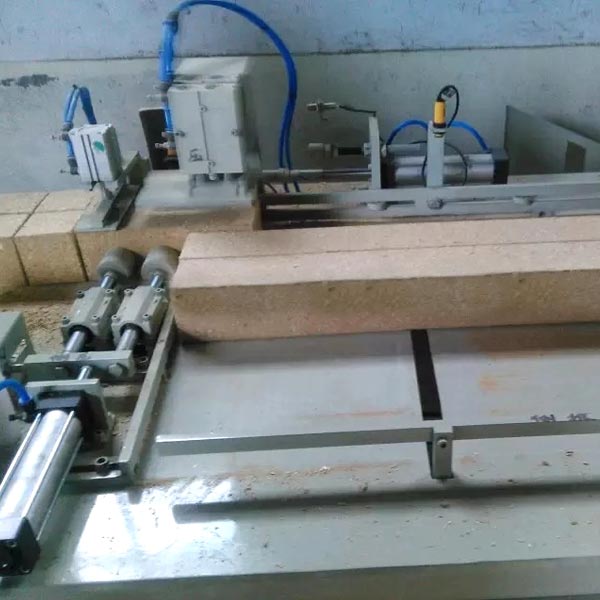 Advantages of Pallet Block Cutting Machine / Bandsaw Cutting Pallet Wood Block Cutter
Unique conveyor chainplate.
The pallet block automatically falls and increases the yield. Graphic design, increase friction, grab wood for stable feeding.
Imported saw blade steel plate, lower working vibration, not easy to deform, burnout
Imported alloy cutter head, sharper and wear-resistant
High-distribution motor, full copper coil, imported gear, high electromagnetic power, low temperature, and large torque, powerful.
ThoYu provides you semi-automatic and fully automatic wooden pallet production line. What's more, you also can produce different types of pallet according to your need. At the same time, one set of 
wooden pallet machine
equips with one set of the mold. If you want to produce different pallet, you just change the mold only.