Introduction of presswood pallet block making machine
Mainly use wood sawdust and shaving or other scrap woods and others agricultural waste like cotton seeds, shell husks as raw materials, Mixing with glue in an certain ratio, extruding wood block by hot press heating pressure. The final wood block can be used as tray and foot pier replaced log, also can be used in export package, free fumigation, and free quarantine. Wood pallet hot press machine is one of the key part of the production line, including the dryer, the gluing machine, grinder and conveyor, manual or automatic cutting machine or saw. Our pallet press machine is uses hydraulic transmission, horizontal continuous out bags, speed high yield.Final block is insects prevention, and protection against termites and do not easy to burn;
Feature of presswood pallet block making machine
Generally four  wood block making machine are a production line, can equip the dryer, the gluing machine, grinder each. (dryer, gluing machine, grinder and so on supporting facility customer buys in addition).
Production personnels 4-5 person per shift. And raw material sort (screening), drying, spreads 2-3 people, looked that machine 2 people (a person may look at two machines)
have different kinds of production type, like 70*70, 80*80, 90*90, 100*100, 150*80, etc
different pallet size can be ordered accordingly
we can offer you the later machine like wood notcher, wood nailing machine, wood pallet cutter, etc.
Our wood notcher machine link:
Technical Parameters of presswood pallet block making machine
| | | | |
| --- | --- | --- | --- |
| Model | Double Head | Four Head | Six Head |
| Size | 4800*780*1320 | 4900*800*1800 | 4900*940*1800 |
| Capacity | 2-5m3/24h | 4-5m3/24h | 6-8m3/24h |
| Density | 550-600kg/m3 | 550-600kg/m3 | 550-600kg/m3 |
| Weight | 1050kg-1500kg | 1500kg | 2200Kg |
| Power | 12-19kw | 16-18kw | 24kw |
The final pallet block type can be adjusted according to user requirement.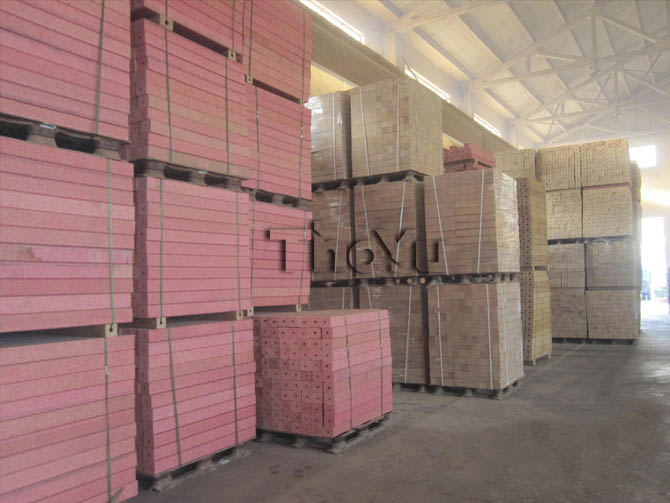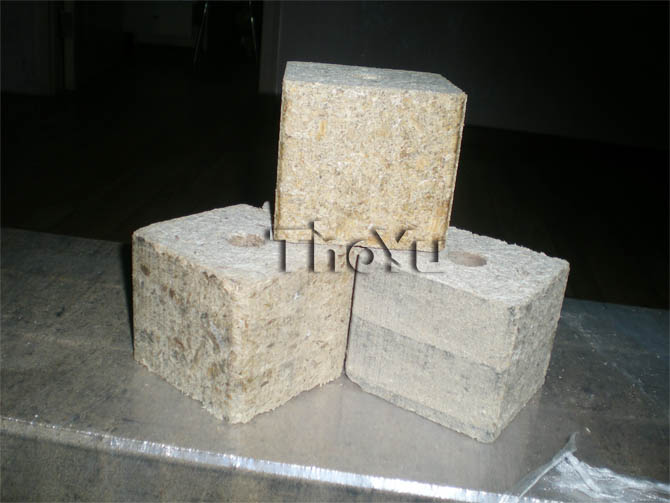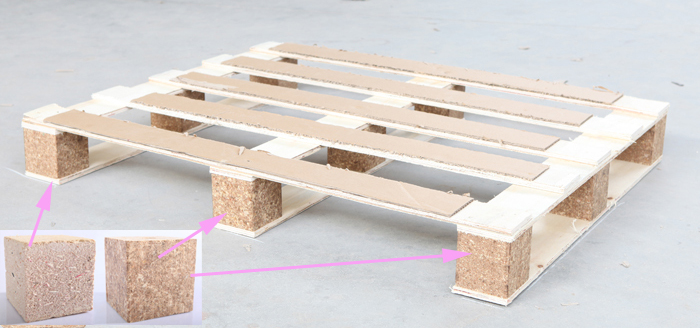 Q: How do you ensure the quality of your products?
A: Generally, our equipment are the most durable type our customers at home or abroad. With our experienced quality control team, we are trying to offer you the product with best quality. However, we do recognize that there do have small amount of the product which may got faulty or damaged for different reasons;
Q: How does your after-sale service work if the product got damaged?
A: In the guarantee time 24 months, our general after-sale service is changing the damaged parts, but if the damage could be repaired by slight cost, we would wait for the customer's bill for the fix cost and refund this part of cost.(note: wear parts do not include.)
If you have any further question on wood pallet making machine, please feel free to contact me freely!
ThoYu pallet machinery ongoing research seeks to further increase the understanding of the relationships between the design and performance of wood pallets and the entire unit load, to obtain even greater resource efficiencies in the future.
Need a custom box? presswood pallets and cases to your specification:Just send us the size… It's simple and fast!Get a quote before you order, normally the same working day.
ThoYu provides you semi-automatic and fully automatic wooden pallet production line. What's more, you also can produce different types of pallet according to your need. At the same time, one set of 
wooden pallet machine
equips with one set of the mold. If you want to produce different pallet, you just change the mold only.
Contact information
QQ:1719065607
Whatsapp/weichat/Tel:+86 13733828553
Skype:miki_palletmach@163.com
Email: sales01@thoyu.com