Presswood block making machine is used to make blocks/feet/log for wooden pallets, which is can be used in packing industry and logistics(transportation).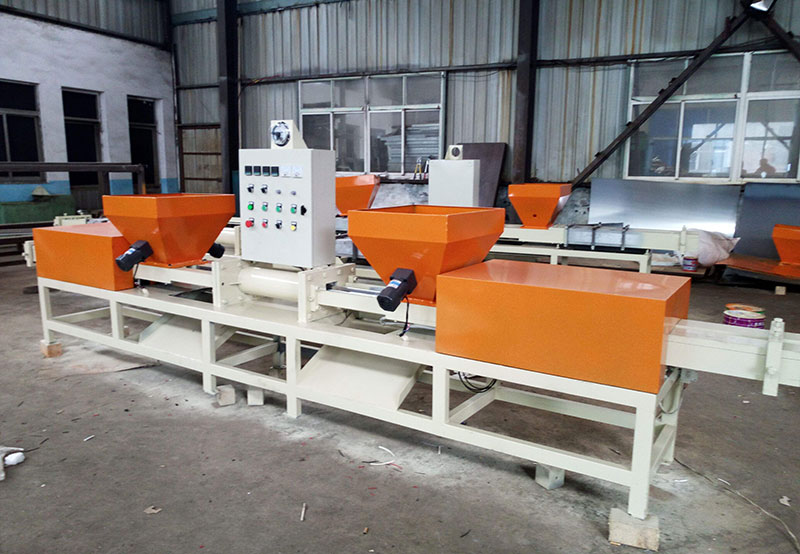 Material Requirement of presswood block making machine
Raw Material: Wood Sawdust, wood shavings, wood chips, waste wood, used pallet and so on,also the glue(Urea formaldehyde resin& UF resin).
The sawdust should be 3- 5mm.
The wood shavings should be 3-5cm.
The moisture content should be less than 12% .
How to  make presswood block
Crush wood branches, biomass, used pallets, wood logs, waste wood etc into powder, wood shavings or wood chips;
Dry the raw materials into certain moisture at 8-10%;
Mix materials with glue water by gluing machine
Press materials into block shape as your demand size by presswood block making machine.
Final Product of presswood block making machine
Block Size: Mainly 75*75,80*80,80*100,80*120,90*90,100*100,100*115,100*120,90*120, 145*145(mm*mm) etc,and can be customized by our customers.
The final presswood blocks are flat, smooth ,artistic surface and good waterproof .
The products conform to the national standard, which combined strength of 1.07 Mpa, grasps the screws force vertical for 1590 N, parallel for 1660 N which is the ideal material for fumigation-free wood tray holder (feet pier, a leg).
The pallet block making machine can produces blocks with hole or without hole. It is fully up to the users' requirements.
presswood block making machine parameter
| | | | | | |
| --- | --- | --- | --- | --- | --- |
| Model (four heads) | Dimension (mm) | Weight (kg) | Power (kw) | Wood Block Density (kg/m³) | Efficiency (m³/24h) |
| 75*75 | 4800*500*1420 | 1050 | 12 | 550-600 | 2-4 |
| 80*80 | 4800*500*1420 | 1100 | 12 | 550-600 | 2-4 |
| 80*90 | 4800*500*1420 | 1150 | 15 | 550-600 | 3-4 |
| 90*90 | 4800*500*1420 | 1200 | 15 | 550-600 | 3-5 |
| 100*100 | 4800*500*1420 | 1300 | 16 | 550-600 | 3-5 |
| 100*120 | 4800*500*1420 | 1350 | 18 | 550-600 | 3-5 |
| 120*120 | 4800*500*1420 | 1400 | 18 | 550-600 | 3-5 |
| 120*140 | 4800*500*1420 | 1450 | 19 | 550-600 | 3-5 |
| 140*150 | 4800*500*1420 | 1500 | 19 | 550-600 | 3-5 |