sawdust block making machine is a woodworking machine used to produce sawdust block with hot pressing,the block is used in wood pallet as the pallet foot.
The sawdust block production line consists of five machines which is as follows:  wood crushing machine,drying machine, glue mixing machine, sawdust block making machine and the saw to cut up the block.
The raw material is sawdust, wood shavings, waste wood, used pallet etc.
NOTE: If the raw material size is not very big we do not suggest crushing first.
The sawdust wood block size can be customized according to your needs.Size range from 20 mm to 145mm and 90*90mm,100*100mm are the common styles.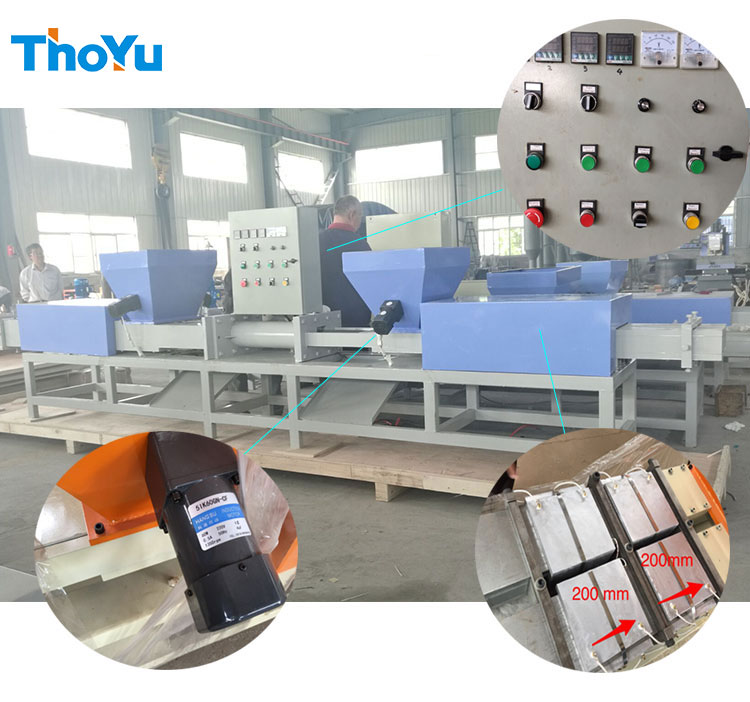 sawdust block making machine advantages
the machine start working after heating 20-30 minutes.Temperature is 130-180 °c
The sawdust block's density is can adjustable .
There are three models:4 heads ,6 heads and 8 heads
Different heads can customize different size's sawdust block .
The machine can make different shape sawdust block .In the sawdust block center can making a hole or not according your demand.
sawdust block features
standard size, without metal materials in the block.
can be used in export package, free fumigation, and free quarantine; do not need any test before export.
Water proofs, insect prevention, and protection against termites, antiseptic uses and do not easy to burn. Strong bearing capacity, no deformation and can be reused.
Can be forked from four directions, easy to use the pallets.
Can be store in bulk, save room, easy to be transported.

ThoYu pallet machinery ongoing research seeks to further increase the understanding of the relationships between the design and performance of wood pallets and the entire unit load, to obtain even greater resource efficiencies in the future.
Need a custom box? presswood pallets and cases to your specification:Just send us the size… It's simple and fast!Get a quote before you order, normally the same working day.
ThoYu provides you semi-automatic and fully automatic wooden pallet production line. What's more, you also can produce different types of pallet according to your need. At the same time, one set of 
wooden pallet machine
equips with one set of the mold. If you want to produce different pallet, you just change the mold only.