Wheat straw Hot air stream wood chip dryer is applied for drying barley straw, oat straw, wheat straw, rye straw, straw, sorghum straw, corn straw, potato vines, beanstalks ( including materials like soybean straw, broad bean straw, pea straw, cowpea straw, lupine straw, peanut vine, etc.) According to the characteristic, production capacity, applying requirement, cost control, operating convenience of each biomass material, our company optimizes the drying technology.
<strong>Technical Parameters of wheat straw Hot air stream wood chip dryer
Model
Capacity(t/d)
Vaporization capacity(t/h)
Early moisture(%)
Final Moisture(%)
Drying Temperature(℃)
Total motor power(kw)
Total weight(kg)
Cover Area(m²)
TYGT1210
44.0-19.5
0.565
35-50%
12-15%
270±30℃
28
13500
5m×15m
TYTG1409
46.5-20.5
0.595
34
15500
5m×15m
TYGT1615
88.0-39.0
1.130
45
19500
6m×22m
TYTG2010/3
144.5-63.5
1.850
78
25000
8m×18m
TYTG2210/3
154.0-67.5
1.976
85
27000
8m×18m
TYTG2510/3
193.0-83.5
2.427
110
35000
10m×18m
TYTG2512/3
227.0-100.0
2.912
125
38000
10m*20m
TYTG2912/3
268.0-120.0
3.432
135
43500
10m*22m
Wheat straw Hot air stream wood chip dryer features
This equipment is of a huge production, high efficiency, and energy saving, small floor space. Compared with common dryer machines, it saves energy by 30%-50%, thus saving energy and drying cost to the maximum.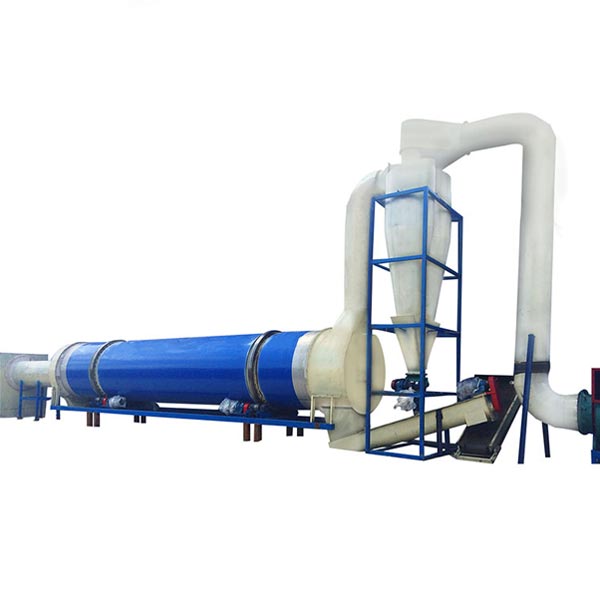 Wheat straw Hot air stream wood chip dryer working principle
wheat straw is fully dried in rotary drum and gets separated again before entering the conveying pipe for further drying. The baffler can keep the impurities out of the conveying pipe and ensures the high quality of dried straw. With the combined work of rotary drum and injection pipe, wet materials are fluidized and fully contacted with hot flow.
Wheat straw Hot air stream wood chip dryer configuration
wheat straw dryer is consists of heating furnace, feeding port, drum, filter drum, conveying pipe, cooling drum, and discharging port.
Above all, Thoyu also provides molded plastic pallet machine and wood pallet block machine for you. In addition, we can provide all series of auxiliary equipment, such as wood chipper, wood crusher, drying machine, glue mixing machine and so on.