Kraft Paper Wood Pallet Making Machine is a moulding pallet machine researched and developed by our factory, the moulding machine is noiseless and pollution-free, it is ideal equipment for moulding pallet production. After many years of production practice, it has proved its energy saving, good stability, high production efficiency, the heating method is heat-conducting oil, steam, according to various pallet specifications can be designed to replace the touch with easy installation, the machine occupies an area of small, placed on the site can be used.
Kraft Paper Wood Pallet Making Machine has reasonable design structure, adopts four-way synchronous positioning, precise balance of clamping, fast pressurization with liquid filling, and can be fully pressurized in 30 seconds, convenient and simple operation, just lay the wood chips flat in the processing touch tool, press the work button, the Kraft Paper Wood Pallet Making Machine can automatically complete the whole process of pressing, limiting pressure, lowering pressure, holding pressure, timing, unloading, demoulding and lifting in place, the time for processing a pallet holding pressure curing is about 350 seconds, a moulding machine can process about 240 pieces of pallets in 24 hours, with beautiful appearance, available for small specification production needs, and can also be equipped with multiple machines for processing.
Kraft Paper Wood Pallet Making Machine parameters
Kraft Paper Wood Pallet Making Machine
Model
TYYJ-1200
Voltage
customized
Capacity
240 pieces/day (24hours)
Power
22 kW
Hydraulic cylinder diameter
350 mm
Hydraulic cylinder quantity
4 pieces
Pressure
0-1200 tons (adjustable)
Shaping cycle
300 seconds
Weight
30 tons
Dimension
4200*2200*3500 mm
Remarks: it includes two sets normal mould along with one set machine.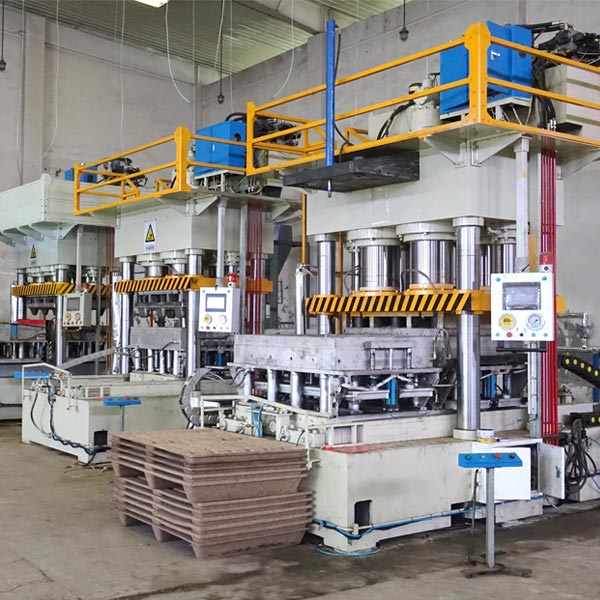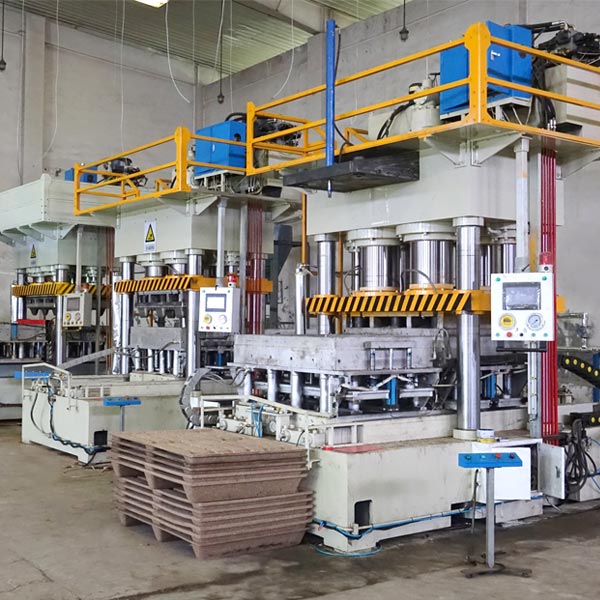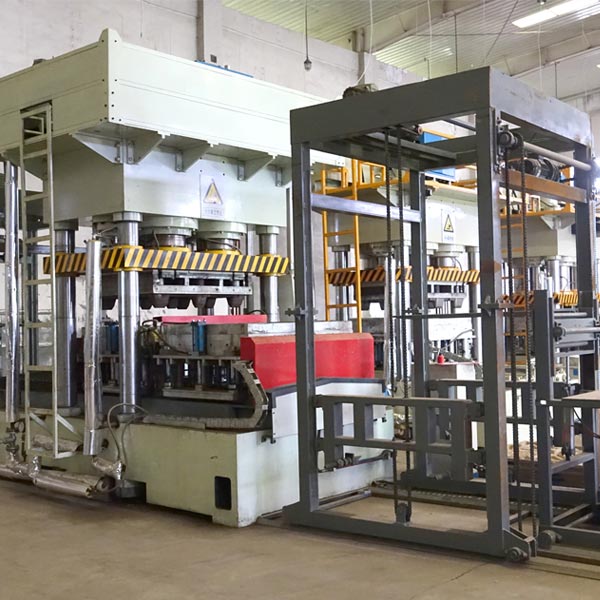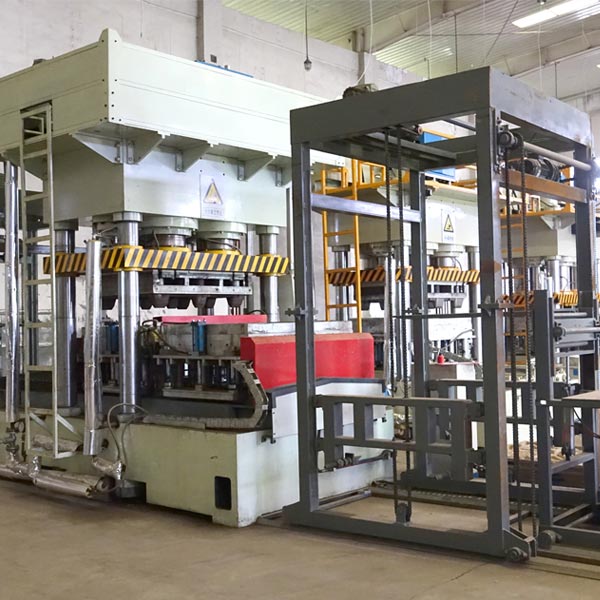 pressed pallet advantages
Low pallet production cost. The pallet can be formed in a single operation, with low raw material costs, few production processes, high output, and fully automated production.
Can be nested to save storage and transportation space. Pallet sets are taller than 50 pallets, less than 2 meters high.
High strength, four-sided forks. The design of the bottom of the product conforms to standards, with reinforcement to ensure its load-bearing capacity, four forks, suitable for standardized operation of forklifts.
Green and reusable. Making full use of building templates, waste wood and other long-fiber materials, it can replace traditional solid wood pallets, reduce wood felling and realize the recycling of wood resources.
How to reuse materials to pressed pallet
Materials -> Chip to big chips -> Crush to small chips -> Dry to reduce moisture -> Mix materials with glue -> Press with high temperature and high pressure -> Demoulding ( automatic ) -> Deflashing -> Inspection, Packing and Stroage
Above all, Thoyu also provides molded plastic pallet machine and wood pallet block machine for you. In addition, we can provide all series of auxiliary equipment, such as wood chipper, wood crusher, drying machine, glue mixing machine and so on.