Press wood Pallets
Press wood pallets are made from recycled waste wood and conform to ISPM15 regulations for export. Their unique design allows the pallets to be nested together, taking less than half the space taken by conventional pallets.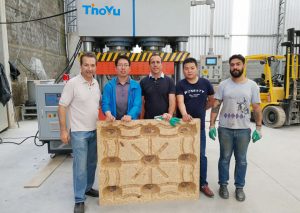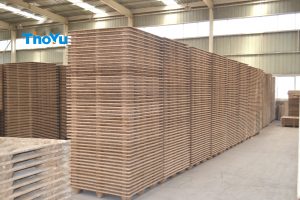 Light weight: Cheaper to transport and easier to handle
Stackable: Save storage space thanks to the pallet's nestable design
ISPM15 compliant: Suitable for export worldwide
Recycled & recyclable: Made from reclaimed and recycled wood
Dimensions
Length x Width
Capacity
600 x 800 mm
Ref: F64S

500kg
800 x 1200 mm
Ref: F8LF2

900kg
1000 x 1200 mm
Ref: F10M

900 kg
About press wood pallets
Press wood pallets are an environmentally friendly, space saving alternative to traditional wooden pallets. Durable and reusable, but cost effective enough to be disposable.
Recycled and recyclable
Manufactured from moulded recycled and reclaimed wood.
ISPM15 compliant
Because press wood pallets are moulded under enormous pressure at a very high temperature, they need no extra treatment and are regarded as outside of these regulations. They can also be exported worldwide.
Light weight
Low tare weight (unladed weight) compared to traditional wooden pallets. Easier to handle, cheaper to transport and suitable for air freight.
Stackable
The nesting design of press wood pallets helps save storage space and encourages return trips.
No nails or screws
Safe for manual handling.
Rounded corners & no sharp edge
Easier to apply shrink wrap or pallet wrap.
Capacity
Capacities stated are for dynamic loading. Static loads are equal to four times the dynamic load. All capacities refer to evenly spread and restrained loads.
The benefits of moulded press wood pallets
Press wood pallets from Kite Packaging are made from recycled moulded wood pulp. See how easy they are to stack and handle compared to timber pallets.
Our press wood pallets are made from recycled material & are fully recyclable.
They contain no nails or screws, so are therefore a lot safer to handle.
Using a standard forklift, they can be lifted with ease.
Splinters from broken wooden pallets are a thing of the past.
We can also make plastic pallet,For details, please click