an style="color: #3f6fff;">High efficenty wood pallet block hot press machine Application
High efficenty wood pallet block hot press machine is mainly used to make blocks/feet/log for pallets, which is can be used in packing industry and logistics. The raw material can be wood shavings, sawdust and so on. The pallet blocks have the charasteristics of smooth surface, water proof ,and durable for use.
Wood sawdust block making machine production line is consist of four main machines: the crusher, the dryer, the gluing machine and the hot press machine(main machine of the wood block production line).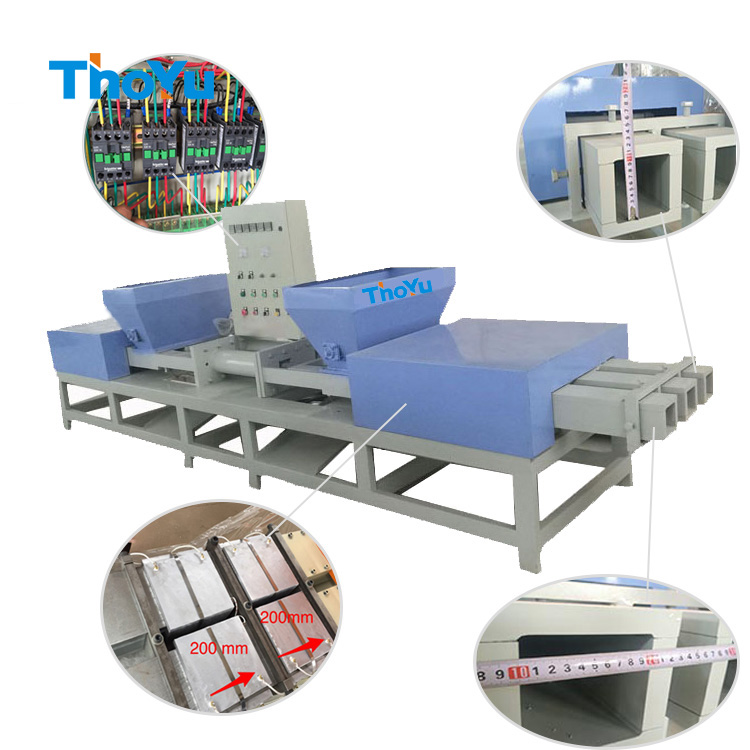 High efficenty wood pallet block hot press machine Main Features
1.
High tempearture, high pressure can press the material into pallet feet one tim, standard size, without metal material in the pallets;
2.According the the European standard, biodegradability;
3.Good water proff, insect prevention, and protection against termites and do not easy to burn;
4.The final blocks produced by the High efficenty wood pallet block hot press machine have the prominent features of smooth, waterproof, fumigation-free and inspection.
Final Products show

High efficenty wood pallet block hot press machine line

1. Wood crushing machine   2. Belt conveyor   3. Silo   4. Rotary drum dryer   5. Dust collector   6. Glue mixer   7. Bucket elevator   8. sawdust block making machine


ThoYu pallet machinery ongoing research seeks to further increase the understanding of the relationships between the design and performance of wood pallets and the entire unit load, to obtain even greater resource efficiencies in the future.
Need a custom box? presswood pallets and cases to your specification:Just send us the size… It's simple and fast!Get a quote before you order, normally the same working day.
ThoYu provides you semi-automatic and fully automatic wooden pallet production line. What's more, you also can produce different types of pallets according to your need. At the same time, one set of
wooden pallet machine
equips with one set of the mold. If you want to produce a different pallet, you just change the mold only.
Great thanks for visiting our web, if any interests or questions,
please do not hesitate to contact us, we will do our best for you.
Whatsapp/weichat/Tel:+86 13733828553
Skype:miki_palletmach@163.com
Address: Room 1602, No.9 Building, Henan E-commerce Industrial Park, Gaoxin District, Zhengzhou, Henan, China.