Compressed wood block making machine is a wood block machine manufacturing compressed wood block,the compressed wood block is used for pallet.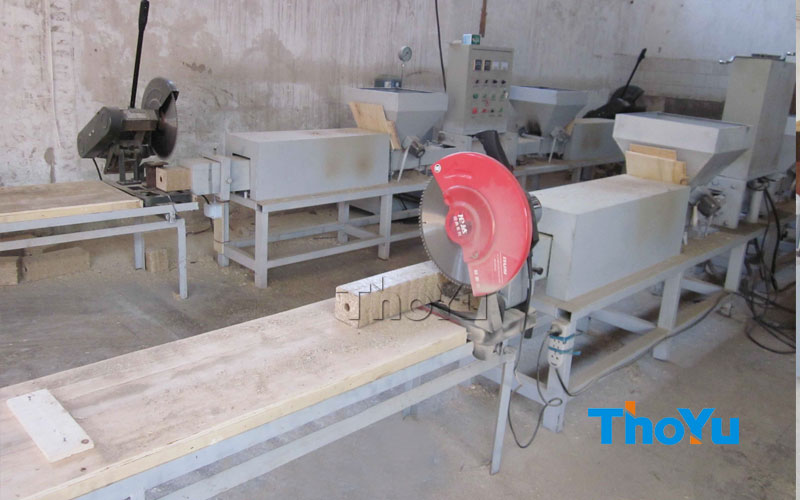 This product made by Compressed Wood Block Making Machine is mainly used to replace the foot pier used on the log pallet, no fumigation, no heat treatment. It is mainly used for wood chips, sawdust, shavings and other wooden materials. By hot pressing are beautiful and clean, and the water resistance is good (the water is not cracked for 48 hours, the wind is not cracked by the sun), and the nailing force is strong. Applicable to customers with higher requirements, can make Molds according to specifications and sizes, and make the products of the foot piers exempt from fumigation, formaldehyde emission (E2), all in line with national standards, the internal bonding strength is 1.07mpa, the holding screw force Vertical 1590N, parallel to 1660N Is the ideal material for making fumigation-free wooden pallet brackets (foot piers, legs).
The Features of wood block made by Compressed Wood Block Making Machine:
1: Compared with the multi-layer board, the specifications are uniform and the appearance is consistent, which improves the appearance and grade of the product;
2: smooth on all sides, no need to polish; different from the sawdust cutting of the whole board, the surface is rough and easy to lose slag;
3: Uniform heating around the middle and the middle, the glue solidifies thoroughly, and the product strength is high;
4: The surface is smooth and water is not easy to penetrate, and the fiber bonding force of the shavings itself makes the product have excellent water resistance.
5: Shavings plus wood chips have more crude fibers and strong internal structure, so they are not easy to crack after eating nails.
The products are widely used in wood packaging processing, transportation, machinery and electronics, ceramic building materials, hardware and electrical appliances, precision instruments and other industrial products transportation and packaging and pallet processing. The product is smooth, flat, beautiful, durable and has a large carrying capacity. No mites and other characteristics.
Thoyu is the leading manufacturer of compressed wood block making machine in China. And our clients are from Italy, Mexico, Russia, Ukraine, Brazil, France, Finland, Poland, Greece, Romania, Tunisia, South Africa, and so on.
ThoYu is eagerly awaiting your visits and cooperation.
It is very simple project that turning wood waste into pallet in wood recycling industry. At the same time, it can gain more money to produce compressed wood pallet. While, ThoYu is the professional manufacturer of compressed wood pallet machine and pallet block machine. And we have more than 15 years of production experience. Plus, ThoYu also can provide the whole plan of pallet in wood recycling industry.
If you are interested in wood recycling, please contact us via email sales01@thoyu.com