What is Presswood?
Presswood pallets are manufactured in modern facilities, using the "chipboard process". The pallets are manufactured from recycled raw materials, which may comprise of wood shavings, ex-construction timber, waste wood and even old timber pallets, and also some other industry waste. Not only does this keep the unit cost to a minimum but also helps to protect our environment.

Recycled wood is chipped to a certain size, while powerful magnets extract all metal components before the wood chips are dried and mixed with resin. The chip and resin mixture is then sprinkled into molds where it is pressed under high temperature and pressure . This process bonds the resin through the wood chips to provide improved water resistance for the finished pallets – It is also the intense heat and pressure which eliminates the need to have the pallets specially treated for exports to many countries and other ISMP 15 countries. Throughout the process modern testing equipment is used to ensure quality control at all stages.


The Benefits of molded pallets
–Reduces storage space, it is nestable and stackable.
–Much lighter than hardwood pallets, which reduces freight cost.
–Easy hand pallet truck access
–Moisture content is at 3% or lower
–Guaranteed free from barks, molds and fungus
–Dynamic load 1500 kgs,static load over 5000 kgs. It can be heavier as per requirement.
–Formaldehyde emission E1
–Sustainable supply and a guaranteed standard quality
–Exact size eases vehicle and container loading
–Pallets conform with ISPM 15, certified for world-wide exports
–Pallet meets EC packaging regulations
–All components are completely biodegradable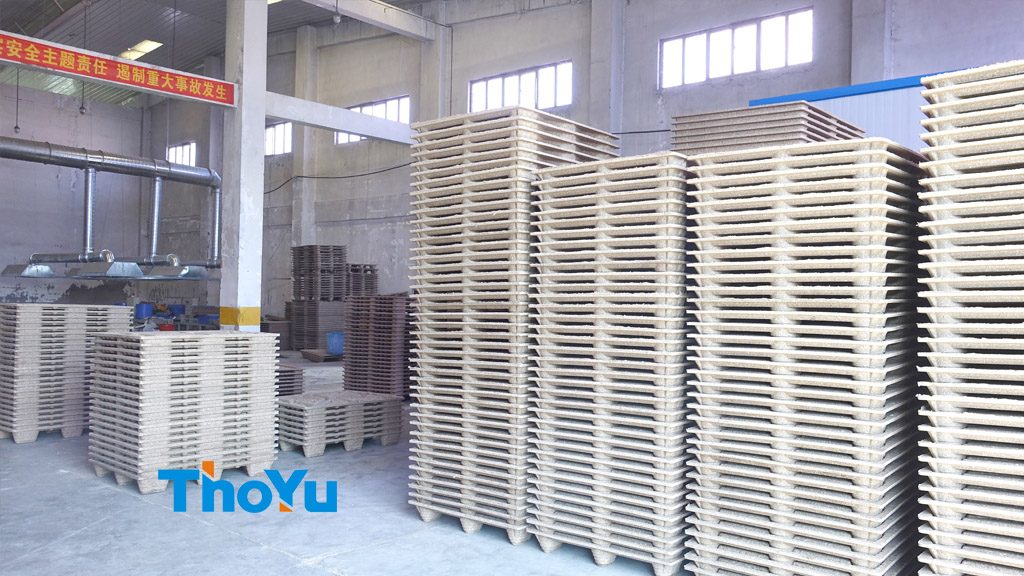 Pallet size: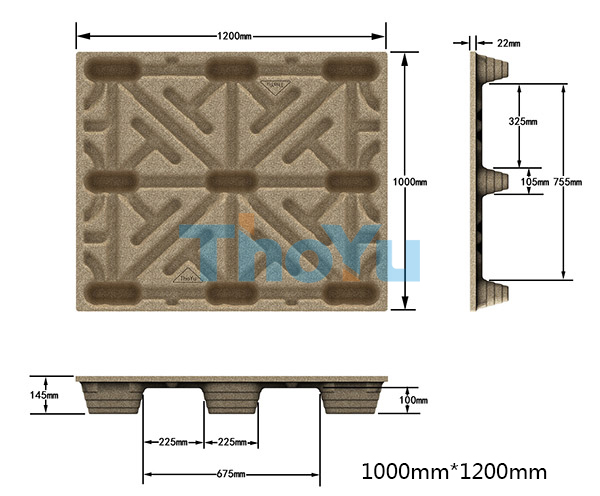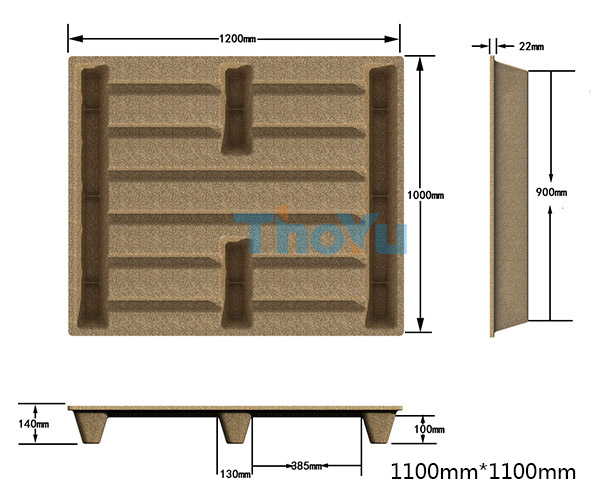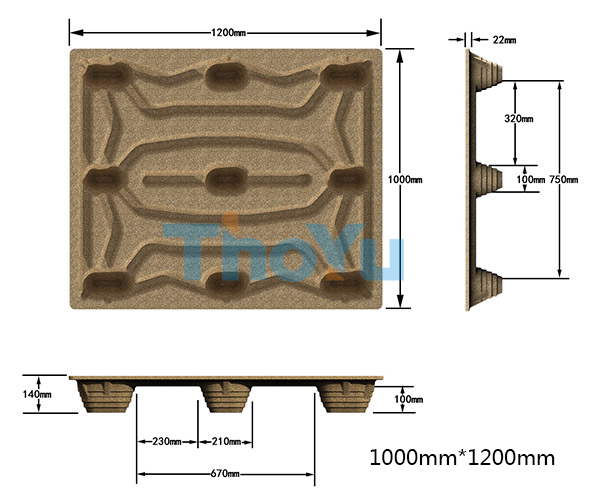 Thoyu is successfully enlisted amongst the renowned manufacturers and suppliers of a quality assured assortment of 
Compressed Wood Pallets
, Wood 
Plastic pallets
 and Wooden Pallets. Under these categories we also provide Molded Wood pallets, Compressed Wood Pallets, Wood Plastic Composites and many more. Widely acclaimed and cherished across the nation for their superb strength, longer working life, durable finish, less maintenance and premium quality, our provided range of products is manufactured under the guidance of our skilled professionals to retain their quality and efficiency. Developed as per the global quality guidelines, our offered products can also be availed in varied modified options as per the necessities of the patrons. We also provide Installation Services.
More profitable Way, Turn Wood Waste into Pallet in Wood Recycling Industry
It is very simple project that turning wood waste into pallet in wood recycling industry. At the same time, it can gain more money to produce 
compressed wood pallet
. While, ThoYu is the professional manufacturer of 
compressed wood pallet machine
. And we have more than 15 years of production experience. Plus, ThoYu also can provide the whole plan of pallet in wood recycling industry.