Russian clients visited ThoYu molded wood pallet equipment factory on 17th April, 2018. And they had a nice visit and a good day.
The company of Russian clients involves in many fields like agricultural machines, forest industries, and so on. But, they also want to build automatic molded wood pallet production line. They have their own farmland and forest region. Raw materials are sufficient for them to be produced molded wood pallet.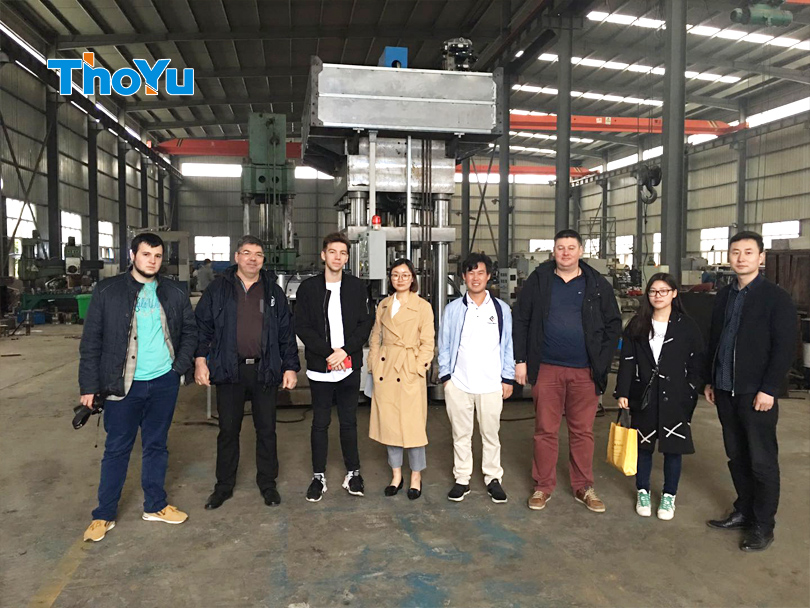 The Russian customer is satisfied with the performance of molded wood pallet equipment after testing them. And they also spoke highly of the working conditions, and the equipment construction. And we also introduced molded wood pallet equipment to our Russian clients in detail. But, they know little about our new wood pallet equipment. However, they just know about the traditional wooden pallet equipment.
Currently we are still discussing with the customer on wood pallet equipment price and the payment. We hope to reach an agreement with customers as soon as possible. What's more, both of us expect to achieve win-win cooperation.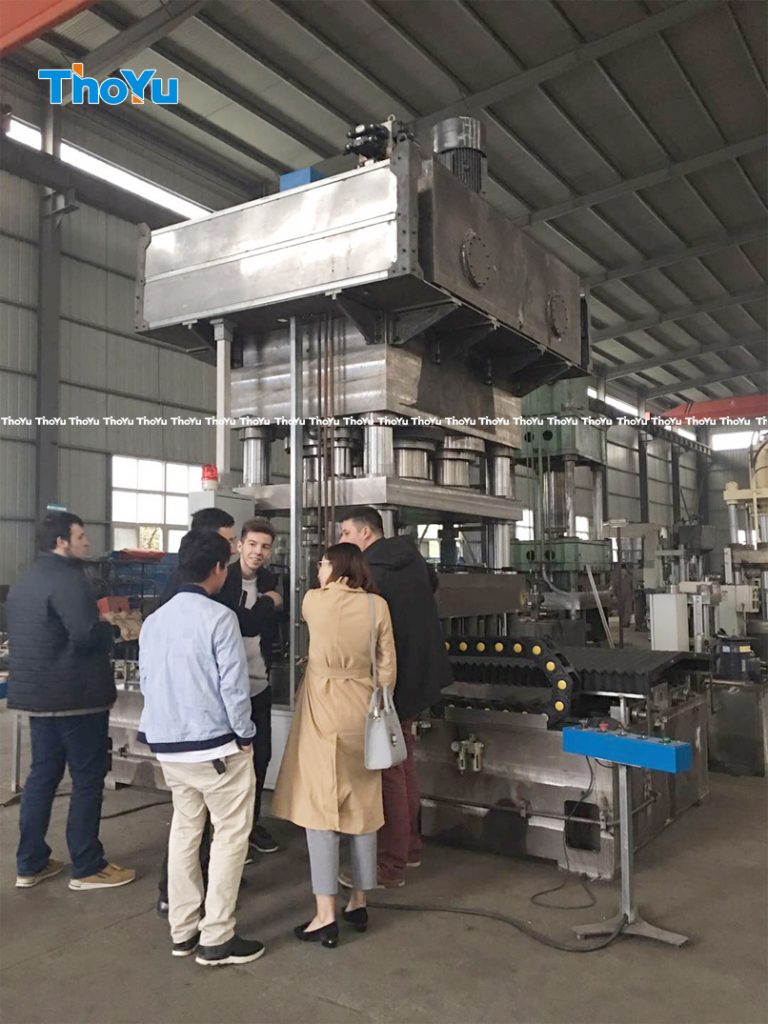 Molded wood pallets are more and more popular all over the world, especially in Europe and North America. Not merely because the features of molded wood pallets, but they are made of waste wood. The following is the features of molded wood pallets.
1. Environment-friendly.
The raw materials of molded wood pallets are waste wood, crap of the wood, sawdust wood chips, wood shaving, wood chips, big chips, raw wood, burned forest, logs, wood board, branches, timber, wood flakes, and waste pallets, and so on. The final molded wood pallets are molded pallet without nails, and they are reused and recycled. Besides, they do not poison the environment when they are broken. Additionally, the broken pallets are also the raw materials for the new pallets. Hence, it also meets the circular economy. Moreover, molded wood pallet making equipment is the ideal equipment for wood recycling.
2. Space saving.
Molded wood pallets are nestable and stackable with a space saving ratio of 4-1. For example, the height of 20 pieces of molded nestable pallets is about 0.75 meter. However, the height of 20 pieces of traditional wooden pallets is 2.7 meters. So they can save space greatly in the warehouse and in transportation.
3. Excellent design.
They are one-piece design. And they are no nails or staples, so as to reduce product and package damage. Eliminating sharp edges helps reduce employee and customer injuries.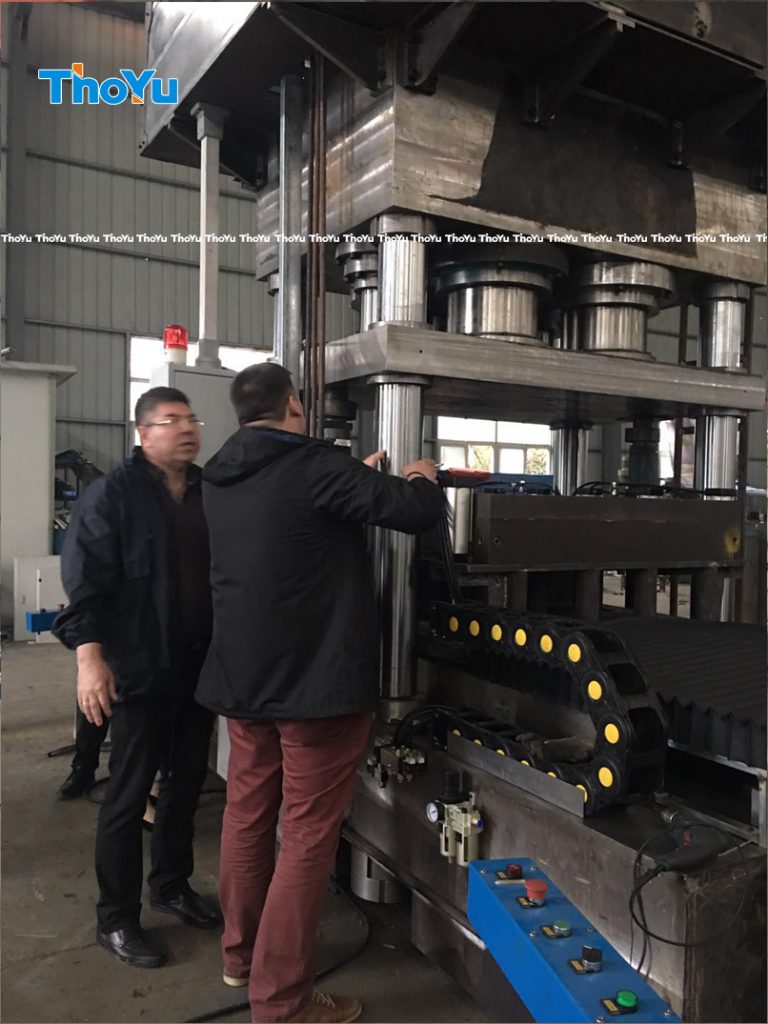 4. Exported worldwide.
Molded wood pallet equipment builds the molded wood pallet with high pressure and high temperature. And it is one time forming pallet. The final pallet meet ISPM15, and is ready for export. Hence, it will save a lot of time required for the customs clearance process. They are free fumigation, so it is not necessary that additional treatment for overseas shipping.
5. Customize design and size.
We also can create special molds for custom designs or sizes. And the customized service is available according to your special requirement.
ThoYu is the leading molded wood pallet equipment manufacturer in China. And our clients are from Russia, Ukraine, Brazil, France, Finland, Poland, Greece, Romania, Tunisia, South Africa, Iran, Pakistan, and so on.

ThoYu
pallet machinery ongoing research seeks to further increase the understanding of the relationships between the design and performance of wood pallets and the entire unit load, to obtain even greater resource efficiencies in the future.
Need a custom box? presswood pallets and cases to your specification:Just send us the size… It's simple and fast!Get a quote before you order, normally the same working day.
ThoYu provides you semi-automatic and fully automatic wooden pallet production line. What's more, you also can produce different types of pallet according to your need. At the same time, one set of 
wooden pallet machine
equips with one set of the mold. If you want to produce different pallet, you just change the mold only.
ThoYu is looking forward to your visit and cooperation.
If you have any question, please contact us via email
Email: sales01@thoyu.com
Tel: 0086-371-61877373
Address: Room 1602, No.9 Building, E-commerce Industrial Park, Changchun Road and Dongqing Street, Gaoxin District, Zhengzhou, Henan.