Molded wooden pallet are made from damaged logs, scrap wood and other wood by-products into new pallet exits. This production process makes great use of resources to reduce waste of resources and recycle wood, the company produces suppressed wood pallets green and environmentally friendly.

Compared to conventional wooden pallets, Molded wooden pallet offer the following advantages:
Easy to export –export free fumigation, non-disinfection, passport-free, convenient and fast entry and exit;
Safe and reliable – The molded presswood pallet is designed with rounded corners and is equipped with reinforcing ribs, which greatly improves the capacity of loading.
Lightweight but Durable – Molded wooden pallet are durable enough for reuse while also weighing 60% lighter than conventional hardwood pallets.
easy to operate–good ventilation performance, production process is very simple, low cost;
easy to use–can replace the wooden tray, used for strong adaptability.
Nestable Design – Molded wooden pallet save space at a ratio of 4-1, which allows customers to utilize more of their warehouse with products, rather than pallets.
Raw materials are inexpensive–they can be made using wood-processing residues and scrap and inferior grade wood.
Excellent dynamic and static load performance – The Molded wooden pallet dynamic load can reach 2 tons, static load more than 11 tons.
Recyclable – Waste pallet recycling, as raw material to make a new Molded wooden pallet.
A piece of design – Molded wooden pallet is a molding, not easy to bend.
Low price–the price is cheaper than the traditional wooden pallets.

Do you want to get extra value from wood waste–made into Molded wooden pallet?
If yes. Please keep reading.
We are Thoyupallets, The leading manufacturer of wood pallet machine in China. Our main project is the wood pallet machine. In addition, we can supply the whole solution for wood pallet production.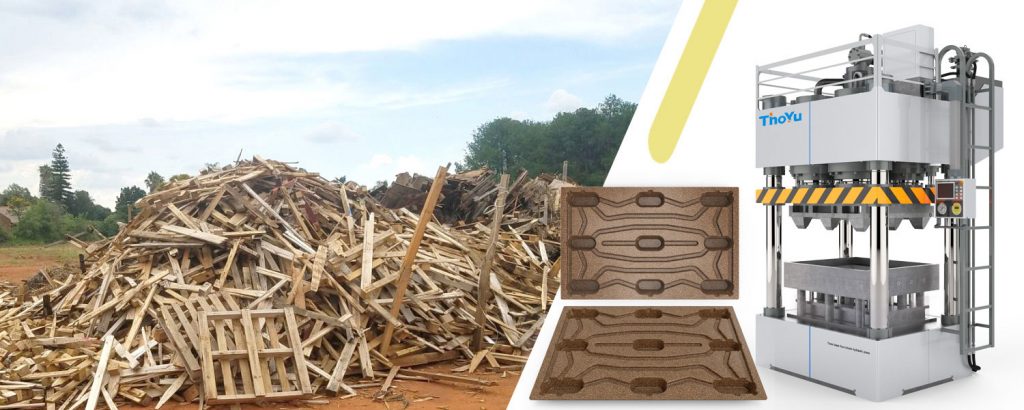 Raw materials for wood pallet machine are sawdust, wood shavings,  wood chips and other wood waste. The raw materials are the remaining materials of the wood processing plant, so they are free. This reduces production costs. The investment in sawmills is also lower than in other industries.
In addition, the wood pallet machine helps to dispose of wood waste, thereby reducing pollution. It also meets the requirements of environmental protection and sustainable development. The final trays are very good, they are also free fumigation and free isolation.
The Molded wooden pallet is smooth and clean, and the waterproof performance is good. Moreover, they also have a large carrying capacity, and the surroundings are smooth and safe. It is very important to provide custom sizes.
If you want to get more money from sawmills, please send email to us sales01@thoyu.com.