ThoYu Wood Pallet Press Machine Introduction:
| | |
| --- | --- |
| Product Name | Wood Pallet Press Machine |
| Producer | ThoYu |
| Model No. | |
| Voltage | 380V, 50HZ, 3 phase |
| Capacity | 150-180pcs/day (24 hours) |
| Hydraulic cylinder diameter | |
| Hydraulic cylinder quantity | |
| Pressure | Max 1000T (adjustable) |
| Pressing heal cycle | |
| Shaping cycle | 450s |
| Weight | 22T |
| Dimension | 2000*1400*3500mm |
To the wooden molded industrial pallet, the raw materials can be wood chips, straw, etc., which is the overall structure, panel and 9 support feet once mold shaped. The upper surface of the pallet plate is smooth, can meet the transport of various goods, the under surface uses stiffener. Plate longitudinal and horizontal force is balance, nine foot distribution to meet the forklift four-way insert. It is a four-way fork in, single-sided pallet.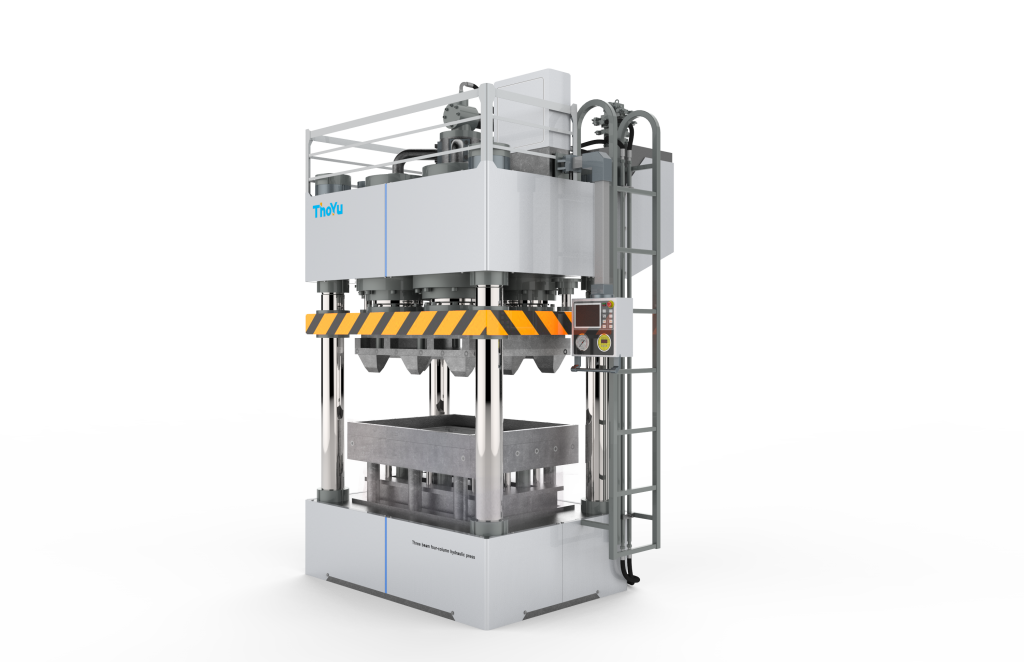 ThoYu Wood Pallet Press Machine Main Technical Characteristics:
1) Pallet moisture content is low, general control between 6%-8%, the pallet are not hygroscopic, deformation during the using process.
2) The size of stability, light weight, no distortion and warping.
3) The mold product size with high precision, specially designed to keep the strength of the reinforcement to ensure the product precision and production.
4)It can keep the strength and stiffness constant and removes the wood's own natural defect during moulding process,and intensity strength are more than traditional board assembly products.
5) The weight are 50% lighter than hard hard wood real wood pallet products.
6)The rounded corners design in order to prevent damaged in the process of product packaging and transportation.it can realize automatic binding processing, save operating time.
7) Can be superposition of multiple pallets piled up together, 50 pcs of pallet about 7 feet hight.a forklift truck can will tray scooping up from each side.
8) To meet the transportation of import and export business, without fumigation processing.
9) Can use wood processing residue and waste wood to make pallet.
10) products are environmentally friendly,which can realize the recycle, recycle and reuse, low pollution, recovery rate can reach 100%.
11)The price are cheaper than the traditional softwood and hardwood materials .
12) Using environment-friendly and urea-formaldehyde resin adhesive as adhesive to wood or wood fiber mould pressing directly.
13) For each standard container can put 1000 pallet, users to minimize the transportation cost.
14)The dynamic load is 1500 kg, static load is 5000 kg.
15) The same number of pallet, which can save 3/4 space than ordinary wooden pallet.a forklift truck can carry 60 pallet, and ordinary wooden pallets can only carry 18 to 20 pcs for 1 time.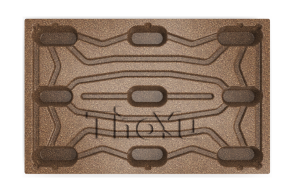 Advantages
ThoYu Wood Pallet Press Machine Unique advantages:
1. Abandon the assembled framework hydraulic old traditional press machine, because for a long term using, the problems of guide instability in process of pressing, inaccurate pressing of the upper mold and lower mold and deformation of framework, come out with the framework press machine in long-term high pressure and high temperature.
2. We adopt the 3 beam Four-Column Guide Device structure, which solved the problems of guide instability and the deformation of framework.
3. We adopt the design of crossbeam, which solved the problem of press inaccuracy of the upper and lower mold.
4. With Pallet Machinery's new technology, problems of the edge burrs has been completely solved. Workers operate grinders to remove burrs, which has become history.
Below is ThoYu Group Packaging & Shipping(Wood Pallet Press Machine):
Your device will be packed well in container and suit for long ocean shipping.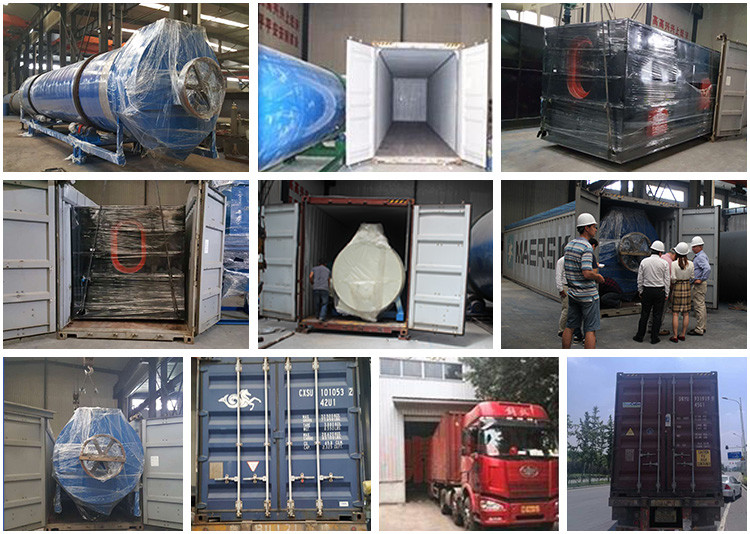 Below is ThoYu Group Service Items:
Pre-sale
1. According to your needs, select right model for you.
2. According to your special requirements, design customized solution and manufacture customized products for you.
3. Welcome your visit.
Sale
1. Sign contract, pay deposit, we arrange production.
2. Product acceptance.
3. Help you formulate construction scheme.
After-sale
1. Assign engineer service for you on-site freely.
2. Install and adjust device, train how to operate.
3. After installation, leaving 1-2 technical staff to help you on-site production, until achieve customer satisfaction.


ThoYu pallet machinery ongoing research seeks to further increase the understanding of the relationships between the design and performance of wood pallets and the entire unit load, to obtain even greater resource efficiencies in the future.
Need a custom box? presswood pallets and cases to your specification:Just send us the size… It's simple and fast!Get a quote before you order, normally the same working day.
ThoYu provides you semi-automatic and fully automatic wooden pallet production line. What's more, you also can produce different types of pallet according to your need. At the same time, one set of 
wooden pallet machine
equips with one set of the mold. If you want to produce different pallet, you just change the mold only.
Contact ThoYu Group
Offer OEM Service
In order to introduce the most suitable machine for you, kindly inform below information in your inquiry.
1. Raw materials
2. Original moisture and final moisture
3. Input capacity, Output capacity
4. Heat source
Contact for More Details
Email/Skype:  sales01@thoyu.com