ThoYu Wood Waste Recycling Equipment is Unique
1. Our Press Wood Waste Recycling Equipment is unique, it is a new type of one time forming machine by hot pressing technology, which is different from tradition nailing pallet machine.
2. Raw materials suitable for this machine can be waste wood, wood scrap, bamboo, straw, sawdust, waste kraftpaper and other materials containing of wood fiber.
3. The presswood pallet can be used for packing also for stock storage in Harsh environment, strong loading capacity, no nails, no steaming, ISPM 15, environmental protection, can be recycled.
4. wood pallet making machine also called wood pallet press machine, wood pallet moulding machine, which is a very good equipment for wood recycling.
How does Wood Waste Recycling Equipment work?
You can choose presswood pallet production method(automatic or manual) according to your requirement.
What materials can make presswood pallet?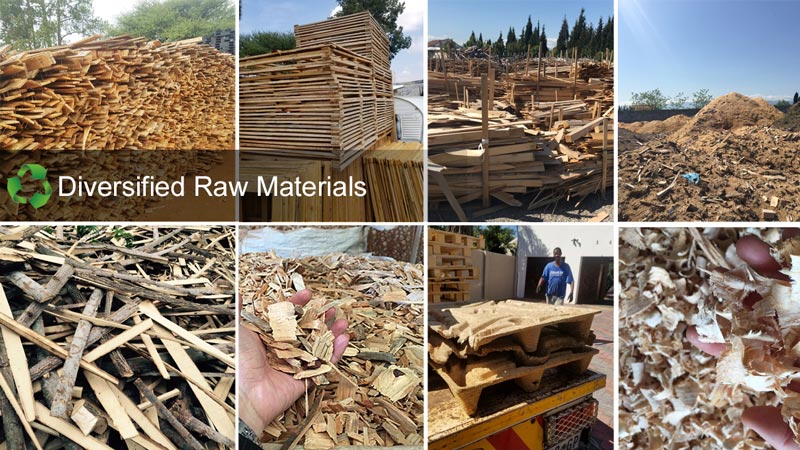 Wood Waste Recycling Equipment model parameter
Wood Waste Recycling Equipment
Model
PM 1000
PM 1200
Pressure
0–1000 tons (adjustable)
0–1200 tons (adjustable)
Hydraulic oil cylinder quantity
4
4
Pallet density
850 kg/m3
850-950 kg/m3
Shaping cycle
450 seconds
450 seconds
Pressure increasing time
350 seconds
350 seconds
Capacity
160 pieces/ 24 hours
180 pieces/ 24 hours
Power
18.5 kW
18.5 kW
Weight
22 tons
22 tons
If you want to invest in a high-yield wood waste recycling project or pallet project, Thoyu give you a One-stop solution, or if you are interested in our Press Wood Waste Recycling Equipment,and have a plan to establish a presswood pallet production line, you can learn some knowledge from the following process of presswood pallet production.
step 1: gather the materials containing wood fiber and eliminate the impurities, then chip to chips.
Step 2: crush the materials containing wood fiber.
Step 3: dry the crushed materials to 5% moisture content.
Step 4: evenly mix the dried materials with glue according to the certain proportion.
Step 5: fill the mixed materials into the mould and press.
Step 6: keep pressing for about 7 minutes.
Step 7: automatically discharge the final pressed wood pallet.
Remarks:
1. The materials containing the wood fiber mentioned above refer to bagasse, bamboo, wasted wood timber, short lumber, straw etc.
2. Anything containing wooden fiber could be used as the raw materials, so the wide sources of raw materials save the manufacturing costs of the product to a great extent.
3. To guarantee the mixture performance of materials and glue, the moisture content should remain 5% after drying in step 3.
4. The adhesive mentioned above is urea formaldehyde glue or others.
5. In practical use, the measurement of pallet performance depends on the static loading and dynamic loading.
Thanks for reading. If you have any questions, you can email us: sales01@thoyu.com or 0086-371-61877373 with our sales manager, else you can leave a message to us. Waiting for your email.
Another machine that can handle waste wood is wood pallet block machine.